Speech Therapy Services
For All Children in the Hawkesbury and Central Coast, NSW, Australia
Enquire Now
Call Us
Can you relate?
You are unsure if your child needs speech therapy
Your child's teacher has suggested speech therapy
You have already chosen to wait and see if your child improves
Your partner doesn't think your child needs speech therapy
Do you want?
Your child to learn and achieve in school?
Peace of mind and to know your child is on track?
To know you have done everything you can to help your child?
When you bring your child for a speech pathology assessment, it is a win/win situation.
We will be able to tell you exactly what stage your child is at and if they are behind or on track. Trying to find the right speech therapist and clinic can be a tricky decision to make; and you want it to be the right decision.
If your child is on track; then we will be more than happy to tell you.
If your child needs some help; then we can help them and provide you with ways to help them improve as well. We believe that every child can learn and we see this everyday.
At the end of the day, you know your child better than anyone! If you have concerns, it is better to do something now, rather than later. We are here to help anyway we can.
Why Choose Speak About?
We are the leading speech pathology clinic in the Hawkesbury and Central Coast
We have extended opening hours to help working parents
We guarantee we will provide you with the best solution for your child and you
We always treat each child uniquely, no two children are the same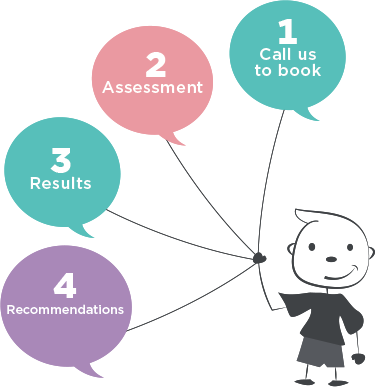 THE SPEAK ABOUT PROCESS
STEP 1 – CALL US TO BOOK
Speak to our friendly team Monday to Friday 9am to 5pm about your child's needs and what you would like to achieve.
STEP 2 – ASSESSMENT
Our lovely admin will greet you. They will give you some basic information to fill out about your child. Your speech therapist will greet you and take you into their room. They will get started with your child straight away and chat to you about the paperwork at the end of the session. Please don't be concerned about your child's behaviour. We understand that your child may have difficulties, we don't judge and it's our role to help.
STEP 3 – RESULTS
Your speech therapist will discuss your child's identified areas of strength and areas for improvement.
STEP 4 – RECOMMENDATIONS
Regular Speech Therapy – your child has areas that need improvement and we can help
Monitor – your child's development over a period of time.
No Therapy – your child's development is on track.
We are always open to accepting new team members to join us on their journey.
Your Next Steps
Call our Richmond clinic on (02) 4555 1870 or Tuggerah clinic on (02) 4307 7914 to invest in your child's development.
Sydney Location: Shop 6-8, 28 Laurence Street, Richmond 2753 NSW
Central Coast Location: Suite 6, 25 Anzac Rd, Tuggerah 2259 NSW
SEEKING HELP EARLY IS BEST FOR YOUR CHILD
BOOK IN AN ASSESSMENT FOR YOUR CHILD TODAY. CALL (02) 4555 1870