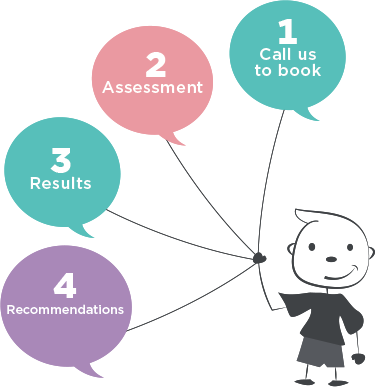 THE SPEAK ABOUT PROCESS
STEP 1 – CALL US TO BOOK
Speak to our friendly team Monday to Friday 9am to 5pm about your child's needs and what you would like to achieve.
STEP 2 – ASSESSMENT
Our lovely admin will greet you. They will give you some basic information to fill out about your child. Your speech therapist will greet you and take you into their room. They will get started with your child straight away and chat to you about the paperwork at the end of the session. Please dont be concerned about your child's behaviour. We understand that your child may have difficulties, we don't judge and it's our role to help.
STEP 3 – RESULTS
Your speech therapist will discuss your child's identified areas of strength and areas for improvement.
STEP 4 – RECOMMENDATIONS
Regular Speech Therapy
– your child has areas that need improvement and we can help
Monitor
– your childs development over period of time.
No Therapy
– your child's development is on track.
Therapy
Including payments under the Enhanced Primary Care Scheme (EPC)
30 minute session – $85
60 minute session – $170
All payments can be made in cash, EFTPOS or credit card. HICAPS and Medicare rebates can be made immediately. Payments under NDIS may vary in price. The above price list is current as at 1st January 2019. Price can change at any time without prior notice.
Your Next Steps
Call our clinic on (02) 4555 1870 to invest in your child's development.
Enquire Now
Call Us
SEEKING HELP EARLY IS BEST FOR YOUR CHILD
BOOK IN AN ASSESSMENT FOR YOUR CHILD TODAY. CALL (02) 4555 1870